Blue Crystalline Face Serum 30 ml: Winner of Elle's 'Best Serum Of 2023.' Vegan, Organic Extracts. Limited Time Sale.
Sale price

$81.00
Regular price

$108.00
(/)
---
Winner of Elle's 2023 First Class Beauty 'Best Serum' Award
Beauty Innovation's 'Organic Product Of The Year' Award
#1 on Cosmoprof's Trends, dubbed the 'Super-Charged Serum'


Crafted from 5 potent organic extracts, our award-winning Blue Crystalline serum rejuvenates your skin, revealing a radiant, ageless complexion. 
Organic Water Lily, Edelweiss, Rock Samphire, Japanese Indigo, Sea Grape            Extracts 

Sodium Hyaluronate & Peptides
Patented Micro Emulsion Technology

Blue Crystalline Face Serum 30 ml I Organic Extracts I Vegan I Gender Neutral

Benefits: Anti-aging • Anti-wrinkles • Reduces fine lines • Brightening • Soothing • Boosts collagen • Anti Hormonal acne • Unclogs pores • Moisturizes • Improves circulation  • Provides protection

Dubbed "Super Charged Serum"

: Blue Crystalline has earned the title of a "Super Charged Serum" and is ranked #1 on the list of Cosmprof Trends.

One-Step Skincare Solution

: It offers a one-step solution to your skincare routine, simplifying your regimen.

Potent Non-Prescription Formula

: This serum is one of the most potent non-prescription skincare products available on the market.

Vegan

: It's vegan-friendly, combining effectiveness with eco-consciousness.

Harmonious Blend of Five Organic Extracts

: Blue Crystalline harmoniously blends five natural and effective organic extracts in each drop, delivering powerful results.

Adaptable to Changing Skin

: This serum adapts to and improves your skin as it changes over time.

Micro-Emulsion Technology

: The patented micro-emulsion technology in Blue Crystalline has 5x higher penetration rates compared to other serums, ensuring active ingredients reach the deepest dermal layer.

Key Ingredients

:

White Water Lily Extract

: Controls excess oil production and strengthens the skin barrier.

Rock Samphire Extract

: Possesses antibacterial properties, purifying pores and providing brightening antioxidants.

Edelweiss Extract

: Contains more antioxidants than Vitamin C, soothing and conditioning stressed-out skin.

Sea-Grape Extract

: Improves elasticity and moisture levels in the skin.

Japanese Indigo Extract

: Rich in skin-friendly vitamins and minerals.

Plant-Based Peptides

: Reduce the appearance of fine lines by supporting collagen production.

Sodium Hyaluronate

: Provides moisturization and improves overall texture, tone, and clarity.

Cruelty-Free

: Blue Crystalline is not tested on animals.

Environmentally Conscious

: It aligns with eco-friendly practices.
Free From Harmful Additives: This serum contains no sulfates, parabens, or phthalates. It's a clean skincare choice.
Natural
Calm Skin
Oil Balance
UV Shield
Choose options
High-quality
All natural ingredients
Our products are meticulously crafted using a unique blend of high-end organic extracts, powerful peptides, sodium hyaluronate, and more.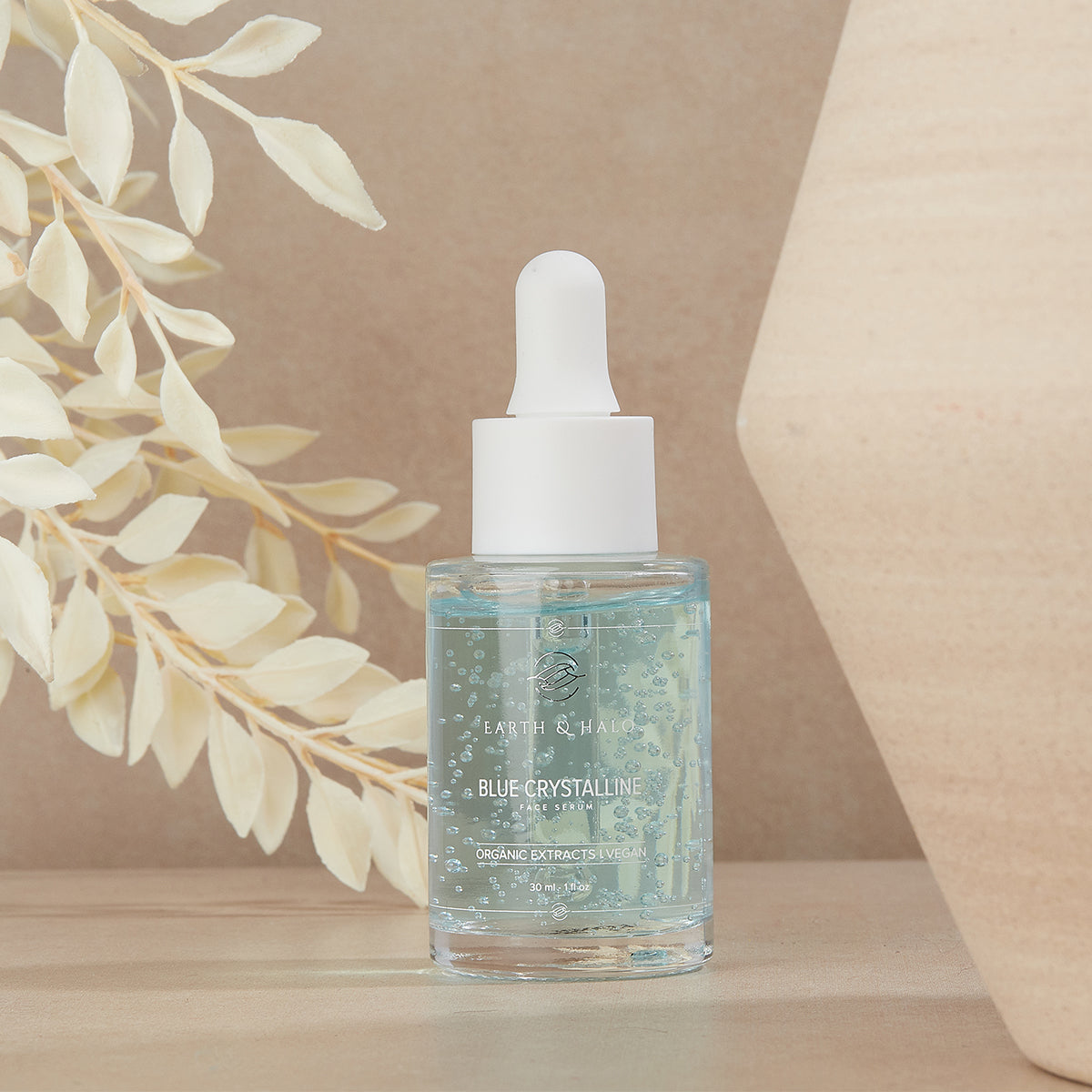 Formula
Innovation, beauty and Science.
Organic Product of the Year Award '22 by Beauty Innovation. When we make a product, we rely on cold, hard data, extensive research, and lab results to make every single decision. That's why our natural ingredients are so unique.
Mission
Revolution, where beauty meets purpose.
Our mission is clear: to create green, adaptive, and highly effective products that cater to the ever-changing needs of your skin. Whether it's hormonal shifts, environmental factors, or the natural passage of time, we're here to provide the ultimate solution.
What a revelation
I was shown this product by a friend who now swears by it and has been using it for over 6 months and boy does it show.
I was very intrigued and I bought it and in just 2 weeks my skin feels smoother, there is a sheen and a glow I can't explain and I think it will only get better. The bottle and the color of the serum is stunning..
Don't pass up this product.
They were so kind to send the product with some small samples of their eye cream which is not next on my list
Randomly i check this website.This website offer amaziing products
Love it
I found this website randomly while I was applying for grants for my own business.
I thought I would give it a shot because it's all organic and plant base and I really appreciated that.
My skin looks so smooth, brighter, and it feels more even. I noticed that my blemishes are gone and my skin is less dry. I feel a lot more hydrated after I wear it before I go to bed. I do feel like I see less fine lines.
I really enjoy the product and I'll be buying another bottle.
Obsessed with this serum!
I received a sample of the blue crystalline serum when I was at a beauty show. After using it only for a few days, my skin was so soft, hydrated and smooth. I noticed a huge difference.
I love this product because it does not irritate my sensitive skin. Highly recommend!!
Amazing product, saw results almost immediately!
So I have a problem with redness and blotchy patches on my face. I used this product, and after TWO DAYS I noticed a difference. I really couldn't believe it, but it left my skin so smooth and soft, and the redness was reduced significantly. I look forward to my skincare routine now, knowing how great it makes me feel and look. I'm completely sold, this product is amazing!